How Does Adjustable Pallet Racking System Optimize Warehouse Storage Efficiency?
A warehouse is a place where varieties of semi-finished or finished products are stored in the packed or unpacked form. Thus, places like this require the right systems and tools for storing, organizing, and transporting products. This is in terms of both technology or software and physical equipment connected to it. From many years, warehouse operators have relied on applications such as warehouse management systems or WMS to optimize their warehouses efficiently.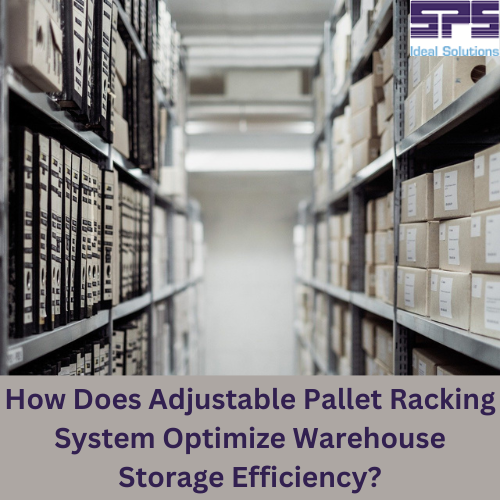 The term involves several automated or semi-automated modules contributing to its functioning. Adjustable pallet racking (APR) system is one of the popular types of WMS. This system is suitable for those who are looking for modifications and customization to the racks and retrieve materials efficiently. APR has been gaining much popularity across industries owing to ease of use, safety, and convenience among other benefits. This system increases the overall warehouse storage efficiency. Do you want to know how an adjustable pallet racks system be an asset to your warehouse? This post answers these questions in detail. So, stay tuned.
Adjustable Pallet Racking Systems Explained
APR systems are commonly used in various types of warehouses and storage units. It is designed to increase the storage capacity of a standard racking system. It is a bolted framed assembly from uprights and horizontal beams that allows you to shift the dimension of the storage structure as per the requirements, saving the warehouse space from being wasted. Pallet racking beams and uprights are the main features of adjustable pallet racks. Racking beams are formed using superior quality materials such as stainless steel, and have either one or two sections based on their type. The sections are welded to the anchor plates and powder coated. On the other side, uprights are available in various specifications. They are formed using quality stainless steel material before being powder coated.
Reasons Why Adjustable Pallet Racking Systems Are Important for Your Warehouse
Every organization demands quick, neatly organized, and user-friendly warehouse systems for its inventory management. Adjustable pallet racking systems allow warehouse operators to meet their storage and retrieval goals. Here are some important benefits of pallet racking systems. So, let's have a look at them.
As opposed to static or integrated pallet racking systems, adjustable racks are well-known for their dynamic and easily customizable designs. As mentioned earlier, these racking systems have bars and racking beams, which can be easily extracted and moved based on the requirements. This means you don't have to invest in expensive racking systems to match the new storage needs.
To meet the demands of a rapidly expanding business, the warehouse must have advanced and well-maintained assets. This will ensure that you do not fall behind in the competition which may lead to losses. Adjustable pallet racks play an important role here as they can quickly adapt and fit several storage situations. This also helps in saving the overall cost in the long run.
Adjustable racks are open-faced. This means the products stored on the systems are easily accessible from any angle. Also, the system makes it easy to keep the warehouse clean and organized. As it is possible to adjust the individual shelves, beams can be maneuvered from one side to another. So that one can clean underneath the unit area as required. This level of accessibility helps you keep track of inventory.
All the factors mentioned above immensely contribute to better workplace ergonomics and productivity. The more accessibility of products to warehouse employees, the faster they can be moved out of the storage space and shipped out to waiting customers on time.
This is about adjustable pallet racks in brief. The knowledge about APR systems is not enough for effective applications; rather you need to use them too. This becomes possible when you seek services from industry-leading experts like SPS Ideal Solutions. The company has become a trusted brand that leverages its market presence in making superior quality, performance-driven, yet compact storage systems.
Related Posts: