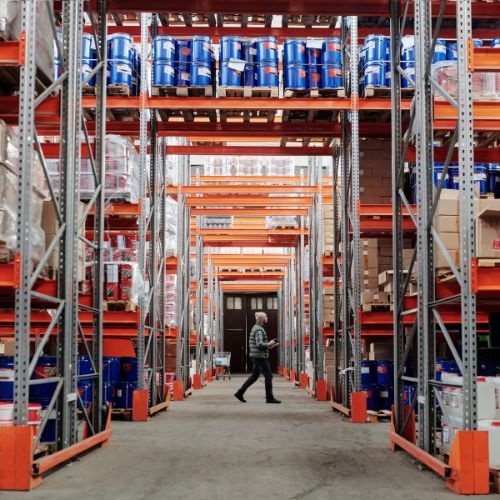 Lease Industrial Steel Shipping Racks
Rent Racking Systems
Leasing steel shipping racks is an economical option, as many of our clients have realized first-hand. SPS Ideal Solutions provides economical tailor-made plans for all clients. Leasing steel shipping racks makes good business sense for new organizations or those venturing into this aspect of the industry for the first time. This can even serve as a ramp up evaluation period to sample our products before investing in the purchase.
Why Opt for SPS Ideal Solutions ?
This is a cost-efficient method of using racks that are specially designed to maximize space utilization and increase efficiency of employees handling the racks and the products.
Our shipping racks are foldable allowing for multiple empty racks to be stored in the place of one (return ratios of 7:1).
Steel is a fantastic replacement for wood pallets, and wood or plastic end boards typically used to ship rolls of flexible packaging or label stock.
We implement rigorous quality and functionality tests on our products.
Our shipping racks are designed to maximize warehouse space.
They also increase efficiency of the employees handling the systems, thus reducing your overall operation time.
We offer fixed plans that allow you to plan your finances ahead of time.
Why Lease?
Use new designs to realize time and money savings.
Benefit from highly efficient racking solutions without making the initial investment.
Fixed and fair pricing.
Rentals can be offset against tax.
Great offers and flexible payment options available with our financing partners.
Our Steel Shipping Racks Are Less Expensive to Lease Than The Constant Purchase of Wood Pallets with end boards for shipping rolls of material! The example below illustrates our suspended roll shipping frame for a medium sized roll. Quantity and design features influence the price.
Rationalizing this statement with simple math:
| | |
| --- | --- |
| Calculating Lease Cost of Steel Shipping Racks | Calculating Purchase of Wood Shipping Pallets & End Boards |
| 500 units @ $590.00 each | Wood end boards: $8.00 x 2 = $16.00 |
| 500 x 590 = $290,000.00 | Wood pallet: $16.00 x 1 = $16.00 |
| i.e., $12,411.77/ month + applicable taxes | |
| Total Cost = $24.82/ unit / month | Total Cost / Set = $32.00 / shipping set |
Calculating Lease Cost of Steel Shipping Racks:
(Example: FOB Hesston, KS)
500 units @ $590.00 each
500 x 590 = $290,000.00
i.e., $12,411.77/ month + applicable taxes
Total Cost = $24.82/ unit / month
Calculating Purchase Cost of Wood Shipping Racks:
Wood end boards: $8.00 x 2 = $16.00
Wood pallet: $16.00 x 1 = $16.00
Total Cost / Set = $32.00 / shipping set
Based on simple expense/ month calculation of material, the steel shipping system saves $7.18/ roll shipped. It is important to note that the wood industry has been faced with difficult supply and quality issues in the common grades of wood used for these types of applications. We have invested heavily in designs to meet the various shipping applications for rolls of material.
SPS Ideal Solutions understands the requirements of its clients. It might not always be feasible to purchase shipping racks. Hence, we offer a variety of products that can leased based on client requirements. The leasing of steel shipping racks for rolled material traditionally shipped on wood pallets and end boards offers a cost effective option. The SPS roll shipping designs provide proven product protection with durable features that are easy to load and unload.
End of Lease Solutions
We offer two options at the end of the Operating lease:
Option 1 – The lessee can purchase the racks from the lease company at the end of term. The price will be calculated according to the market rate. The price will be mutually agreed upon by the lessor and lessee.
Option 2 – The lessee can return the equipment to terminate the lease. He will be required to return the racks to the most convenient warehouse located within the continental USA. A list of official warehouses will be provided.
SPS Ideal Solutions offers their brilliant, cost-efficient, time saving industrial roll shipping racks for lease, to help their clients find viable solution for shipping on wood end boards and wood pallets. The lease options are available for other designs as well. Steel racks offer several options in terms of flexibility – they can be folded when empty, the products aren't damaged, the racks last longer, and can be repaired if damaged. The list goes on.