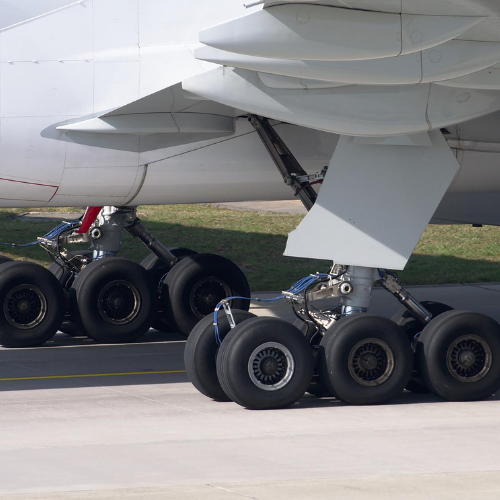 Aircraft Tire Racks
Every aircraft tire manufacturer utilizes a tire rack to store the tires. These tires need to be stored vertically to minimize distortion, and ensure regular rotation. As with any other industry, a properly stored tire is a key to lasting and countless service in the aircraft industry, too. There are a few manufacturers who can meet the specific requirements of aircraft tire manufacturers. SPS Ideal Solutions stands tall among them. We have made a distinction by offering best quality, custom aircraft tire racks, which offer lasting performance. We are well-known for our shortest turnaround times, too.
Major Features of Aircraft Tire Racks Provided by SPS Ideal Solutions
Our tire racks are popular with several aircraft tire manufacturers due to the following reasons:
Large Storage Area:

Our racks are used for storing large aviation tires, as well as standard sizes like 56" OD or 44" OD. Typically, our racks can easily hold 6, 8, or almost 10 tires, depending on the sizes.
Foldable Racks:

Our aircraft tire racks are foldable. They can be stocked 3-4 high, with a fork lift. Additionally, we can also design racks that can be vertically positioned, and offer a lot of free and valuable storage space in your existing facility.
Quality:

We understand the importance of safe and secure storing of aircraft tires. Thus, we only use high quality materials for construction. All our racks are made from industry-certified materials, which help ensure their lasting performance. Although these racks may be exposed to several environmental elements, still they will remain in good working condition. In addition to a high quality material, the racks are coated with surface finishes that improve their corrosion resistance, and reliability.
At SPS Ideal Solutions, client satisfaction is our only priority. This is why we employ only leading manufacturing techniques and methods for developing the racks. These technologies help us design racks in close tolerances, and expedite delivery times. Are you confused about dimensions? No problem, we have a team of experts at your disposal. They will help you arrive at the right conclusion and make a better decision on the racks. You can request a quote today to avail our services.