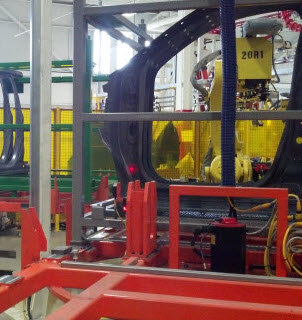 Automotive Racks
Different types of racks are used in industrial warehouses for storing a variety of machine or equipment parts. The type of rack used depends on the product or equipment to be stored. For example, coil racks are used to store big coils. Automotive racks or automotive component racks are specially designed for managing the flow of auto parts, components and sub-assemblies. These racks are used to manage the flow between Tier 1 and Tier 2 automotive suppliers. They help in achieving Just-in-Time (JIT) delivery to the Original Equipment Manufacturers (OEMs). SPS Ideal Solutions is one of the leading providers of automotive racks.
Beneficial Features of Automotive Racks Provided by SPS Ideal Solutions
The automotive component racks can be stacked, or collapsed. This helps save a lot of space in a warehouse. These racks are shippable.

Our automotive racks allow maximum storage in a shipping container or a trailer. This helps reduce the shipping costs.

Automotive racks can be specially designed to stack up to 6 high in a warehouse. This optimizes the warehouse storage space.

The efficacy of in-house handling can be increased with the help of these types of warehouse racks.

Automotive component racks makes the storage of difficult-to-handle parts easy and safe.

These racks are specially designed to ensure part separation. This reduces the chances of damage caused to the products or equipment during shipping.
At SPS Ideal Solutions, we understand the requirements of our clients, and this has helped us in providing racks in a wide range of specifications, and features. The automotive racks that we provide are of high-quality, capable to last long, and offer efficient storage options. Also, we are known to provide the best turnaround times in the industry. The automotive component racks are available at competitive prices. Would you like to know more about the automotive racks and the other types of racks that we provide? Please contact our professionals at the earliest. We are keen to provide the best products and services to you. You can either give us a call on our phone 800-742-1450, or email us your queries and requirements at info@spsidealsolutions.com. To request a quote, please click here.