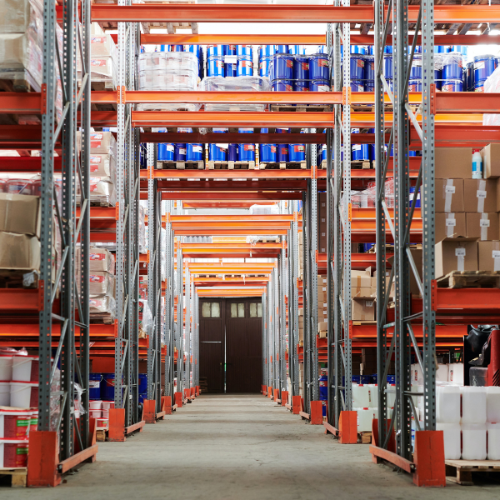 eCommerce Storage Solution
The eCommerce industry is one of the fastest-growing industries in the world. Quick product fulfillment is one of the important requirements in this industry. E-retailers meet their client requirements through their well-equipped warehouses at strategic locations across the country. These warehouses feature eCommerce storage solutions that enable safe and easy storage, as well as fast and effective retrieval. At SPS Ideal Solutions, we specialize in the design and manufacturing of eCommerce industry storage solutions that enable clients to achieve high material selectivity with dense storage. We understand eCommerce fulfillment centers have different requirements, which is why we provide customized solutions. Our eCommerce warehouse racking systems are not only designed to accommodate your inventory but also equipped with flexible elements that assure high volume storage during peak seasons.
Beneficial Features of eCommerce Industry Storage Solutions Provided by SPS Ideal Solutions
All our eCommerce industry storage solutions are designed keeping your future expansion plans in mind. The following features of these storage solutions make them popular among our clients.
Space-saving Designs: We specialize in compact eCommerce warehouse racking solutions that allow dense storage and enable users to optimize their warehouse space. Our racking solutions are designed to stay vertically upright, and they can be easily installed in small spaces.
Ideal for Dense Storage: Dense storage helps in space-saving and effective product retrieval. All our eCommerce industry storage solutions are designed for dense storage. Our experts use CAD drawings to calculate the maximum weight holding capacity of the racks based on the configuration. Upright capacity and load beam capacity of the storage racks are decided accordingly. We have also designed and delivered racks that could hold 30,000lb steel coils.
Supports Automated Operations: Today, many eCommerce fulfillment centers use robotic handling systems or other automated material handling systems for handling stock. At SPS Ideal Solutions, we build eCommerce industry storage solutions with the right tolerances such that they can interface with the robotic handling systems. The racks are built such that they do not cause any equipment jams.
Easy Access: This is one of the important requirements in eCommerce fulfillment centers. Our racks are designed such that they can be easily accessed by forklifts and other material handling systems. We can design racks that are compliant with Last-In-First-Out (LIFO) or First-in-First Out (FIFO) methods, depending on the urgency of material movement.
Portable eCommerce Pallet Racks: In addition to racks in space-saving designs, we also provide racks that can moved along floor rails between locations. These racks help retailers save almost 40% space in a warehouse.
Customization: Like any other industrial storage rack, we assure a high level of customization on eCommerce industry storage solutions. Our experts always discuss factors such as rack specifications, the type and weight of product to be stored, loading and unloading methods, stackability, and automated operations with clients before designing the racks.
Quality: This is deeply embedded in our processes. ECommerce storage solutions are built for long-term storage, so we use materials such as powder-coated steel to build them. Steel can withstand moisture and harsh working environments and assure long time performance in adversities. In addition to this, stringent testing and inspection is carried out in every phase of rack development right from designing to manufacturing and assembling. This helps us assure quality, reliability, and performance, which are quite synonymous with our products.
Please feel free to contact us today to discuss your eCommerce warehouse racking system requirements. Our experts would be happy to help you.