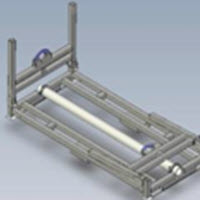 Warehouse Storage System
Every manufacturing or distributing firm has a warehouse, where different types of equipment and products are stored safely. One needs to have a proper system, which holds all the equipment securely. This is where a warehouse storage rack system comes into play. There are numerous types of warehouse racks available in the market. These racks makes warehouse management easier. SPS Ideal Solutions is a place where you can find movable rack options for a vast assortment of these types of racks.
Benefits of Warehouse Storage Rack Systems
There are a number of benefits of implementing warehouse storage system. Here are some of them:
A warehouse storage rack system helps make the warehouse more organized and easy to manage the stored equipment and products.

An organized warehouse saves a lot of space, which can be utilized for storing more products or equipment.

The storage system helps save a considerable amount of time and efforts, as it helps keep a proper track of all the items stored.

When a warehouse is well-organized, it reduces the mess, as well as any possibility of accident that may threaten a worker's safety.
Different Types of Warehouse Storage Racks at SPS Ideal Solutions
SPS Ideal Solutions has a huge CAD library of different types of warehouse racks, useful for varied storage requirements. Here are some racks that are available with us:
These types of warehouse storage racks can be easily stacked up to four high. This allows for more storage space for equipment. If these racks are used properly they can be expected to perform for 10 years or more. These racks are designed to withstand stress of loaded materials, as well as tear and wear from stacking and shipping.
These racks weigh only 225 lbs., yet have the capability to hold 3 engines of 500 lbs. each. These racks can be customized based on the model of engine used. The engine racks available with us are made from high quality steel. These racks can be collapsed when not in use, and returned to engine manufacturers. Also, these racks require no additional strapping during shipping.
The cradle pallets allow for easy handling of coiled materials. We have various designs and styles of cradle pallets, which help reduce the overall weight of the racks. Cradle pallets provided by SPS Ideal Solutions can be easily moved by a fork truck even if coil is stored on them.
These types of warehouse racks are specially designed to hold big coils. This storage solutions allows safe storage of coils and makes them easy to find when needed. Each coil has a separate slot, along with coil saddle, which protects these coils from any potential damage.
SPS Ideal Solutions is a well known warehouse storage rack manufacturer in USA, we understand your need for good-quality racks at affordable prices. Therefore, we have been providing a vast variety of customized warehouse storage racks at competitive prices. Do you want to discuss your specific requirement with us? Then get in touch with our professionals today. You can reach out to us via phone on 800-742-1450. Alternatively, you can also mail us your queries and requirements at info@spsidealsolutions.com. To request a quote, please click here.