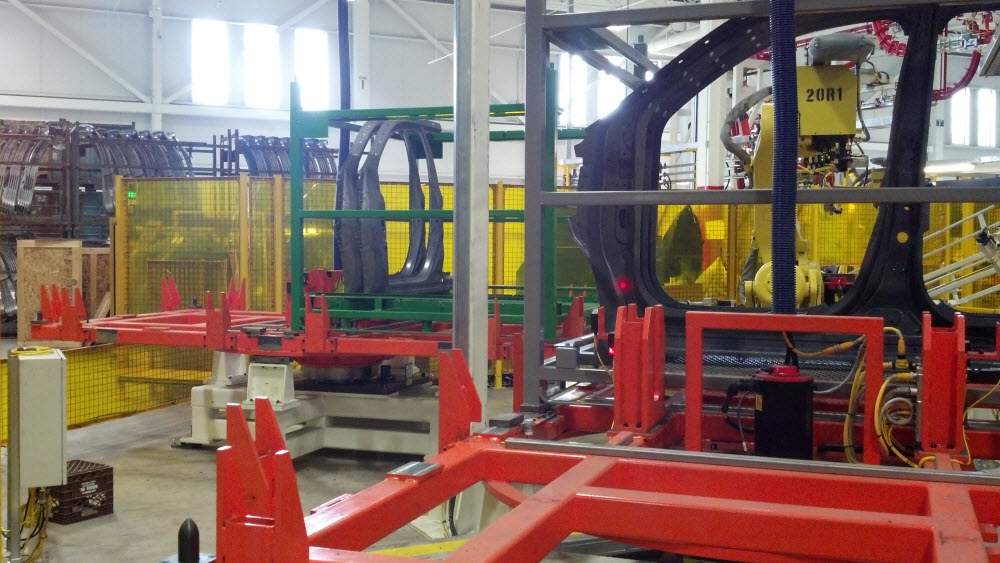 Auto Industry
Make Automotive Manufacturing Easy with Auto Parts Racks
In the automotive industry, components and raw materials of various sizes are assembled to create an automobile. As the industry focuses on mass production, bulk quantities of components, and materials are stored in automotive facility warehouses. These need to be stored properly, protected from contaminants, and be easily accessible for the production process. SPS Ideal Solutions supports automotive manufacturers in this endeavor by providing various types of auto parts racks.
SPS Vehicle Parts Storage Racks Offerings and Features
At SPS, we provide solutions for different types of automotive parts storage components, as well as plastic and metal raw materials. The following are a few of our rack offerings to automotive customers.
Engine Racks: These are collapsible (foldable) racks with modular mounting systems. These features allow for easy engine and rack storage. Engine storage racks are designed with lightweight steel, which makes them easy to handle, and are capable of holding three engines weighing at 500 lbs. each.
Cradle Roll Racks: SPS provides cradle roll racks of different sizes to hold and store raw material rolls of various sizes. We can customize the racks' design depending on the roll size, and also create solutions for multiple roll stacking.
Folding Shipping Racks: When multiple quantities of single component need to be transported from one location to another, SPS recommends using the folding shipping racks. They are designed with a locking feature to secure the components. They can also be folded to a shorter height for easier transport.
Benefits of Car Storage Racks
Automotive customers can gain a variety of benefits by choosing our vehicle (component) storage racks.
We can provide them in material options of aluminum and stainless steel.
All of our steel racks are powder coated with high quality finishes for long term corrosion prevention.
Custom colors for color coding purposes is easily done.
The engine storage racks do not require any extra straps during transport.
All of our racks are reusable after completing the primary storage or shipping assignment.
Unlike wooden racks, our metal racks are impervious to corrosion, dust, water, UV rays, etc.
For custom racks, we can design prototypes, and get approval from the client, before moving on to the manufacturing process.
They can be used to handle items that are tough to store.
Applications of Automotive Parts Storage Racks
Our industrial storage racks can be used to store a variety of automotive components, including:
Tires
Doors
Bumpers
Radiators
Engine Covers
Window Frames
SPS provides auto parts racks with practical designs, and are guaranteed to provide years of service. Thanks to our car storage racks, customers will never have to reorder disposable packaging to meet their needs. If you would like more information about our car storage racks, please send us an email at info@spsidealsolutions.com.