Our high quality steel roll racks are designed to offer protection to rolls during the transporting or storage. These racks are ideal to stock rolled material such as metal coils, fabric, paper, or foam rolls. The following are key features of the suspended steel roll racks:
The steel roll racks can be easily stacked, up to 4 high. This helps optimize the storage capacity of the warehouse or distribution center.

These roll rack can be customized to your preferences.

CAD modeling of the steel construction allows it withstand heavy loads and wear during the transportation.

These storage units are designed for space optimization in a warehouse. Our portable storage racks are ideal for storing both - slow and fast moving components. These storage racks are designed to meet various complex storage requirements. The following are a few key features of our movable storage racks:
Our movable storage racks are manufactured using durable materials, which helps them withstand harsh working environments.

The storage racks can be easily positioned on existing assembly lines.

These racks can be easily folded and stacked on other racks.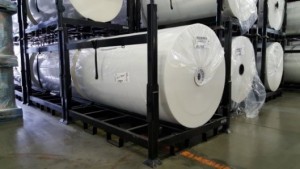 Pallet Racks:
Customers approach us for pallet racks that help them improve storage density and optimize storage capacity. Unlike traditional pallet racks, our racks are built for holding coils, rolls, tires, etc. Our pallet racking system offerings include cradle pallets, flat deck steel pallets, tab stack pallets, and more. We have supplied customized pallet racks to many manufacturing and retail companies across the US. Some key features of these racks are as follows:
Most of these racks can made from stainless steel. This helps them withstand rigors of daily abuse caused by storage equipment, and corrosive environments.

Specialized surface treatments are applied on racks to provide protection.

Stainless steel construction of these racks makes them recyclable, and generates recycling revenues for our customers.
These racks are used in distribution centers and warehouses to store various components and finished goods. Open frame racks are allow easy air flow, and are designed for constrained spaces. The racks feature four posts, which add a solid foundation. The following are a few key features of the open frame racks provided by us.
The racks are designed without walls, which make repairs easy.

The racks can serve in various weight capacities, and are used to store heavy and lightweight items.
Custom Distribution Center Racks Provided by SPS Ideal Solutions
We can design custom racks for your distribution center applications. Our team will work with you to understand your space requirements. You can supply us your own designs, or we can design the rack to match your requirements.
Since the inception, we've always focused on providing high quality products. This is why we have a built a long list of satisfied and happy customers. Our well-equipped facility, and experienced resource pool make us one of the leading distribution center rack manufacturers in the US. No matter, whether you are looking for standard or custom sized distribution center racks, we have a solution for you. Please feel free to call us on 800-742-1450. Else, you can drop us a mail at info@spsidealsolutions.com. You can also request a quote by clicking here. We are happy to serve you always.