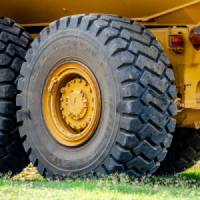 Truck Tire Racks
The truck tires are heavy. The weight of truck tires ranges from 35 pounds to 110 pounds in general. To store such heavy tires, it is essential to have robust truck tire storage racks. Also, the tires for the large trucks are inflated with air at a pressure range of 50 psi to 60 psi. For heavy-duty trucks, the weight and air-inflation pressure may go higher than the stated standard values. The pressure inside the tires increases as the temperature around the tire increases. Generally, 1 psi pressure raises with nearly 10°C of increase in temperature. Therefore, it is essential to have truck tire racks that offer spacious storage, proper ventilation, and design for easy portability. Considering all these factors, we at SPS Ideal Solutions, manufacture portable truck tire racks to fulfill specific requirements. Our truck tire storage racks are customized according to different grades, sizes, weight, and storage-specific requirements of the truck tires.
Beneficial Features of Portable Truck Tire Racks
At SPS Ideal Solutions, we manufacture movable truck tire racks suitable for various types and sizes of truck tires. The following are some of the significant benefits of our movable truck tires.
Our truck tire racks are designed for easy organization. These are compartmentalized for vertical stacking of varying sizes of truck tires. They can fit light truck (LT) tires and special trailer (ST) tires in different compartments. The truck tires of sizes including 225/45R17, 235/65R17 XL, 255/60R18, and flotation tires of grades 33X12.50R18 can be vertically or in-line stacked in these racks.
These are designed for an in-line or vertical spacious storage to avoid jamming and friction between the tires. Unlike mesh type storage, these racks prevent direct friction between the tires which helps in reducing temperature and pressure rise.
These are designed for top-loading and unloading, therefore stacking and withdrawing the tires is quite convenient.
The rack pallet is robustly constructed and the uniform distribution is taken into consideration while designing and manufacturing these racks.
These are portable truck tire racks, therefore, in case of location changes, the tires can be moved with the rack only. This conveniently saves loading and unloading efforts.
SPS Ideal Solutions is a highly reputed manufacturer and supplier of truck tire racks. We can customize the tire storage solutions based on your specific requirements. To know more about our portable truck tire storage solutions, kindly contact our team. We will be happy to assist you.