Why Use Tire Racks?
Imagine a warehouse or factory wherein tires of different types are carelessly dumped in a heap far and wide? This type of improper stacking not only damages the tires but also consumes lots of storage space. Hence, in order to form an optimized warehouse, there should be specialized racking solutions that help store and stack of flat, tread or laced tires with easy loading and unloading.
An innovative product that makes this happen is the tire storage rack. Available in several specifications, these racks allow for the best floor management in your tire rack warehouse, whilst securing your tires safely in place. This post aims to discuss the benefits of using tyre racks in warehouses, automotive industrial spaces, and other factories.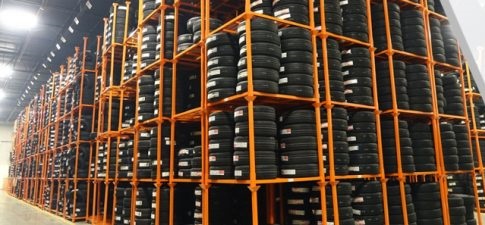 Why Choose Tire Racks for Effective Space Management
When it comes to tire racks, there are several varieties to choose from. Some of the varieties include passenger tire racks (store SUV, Truck and various types of passenger tires), industrial tire racks (stores tires of shredders, harvesters, wheel loaders, bulldozers), display tire racks (store a small number of tires), among several others. Although each type differs with respect to the other in style, shape, finish, materials of construction, design and specifications, the basic purpose remains the same as 'storing tires safely and properly'.
The following are the benefits you gain by investing in these budget-friendly racks.
With these racks in your facility, you can stack/store tires of various sizes and weights.
They help store thousands of tires in a smaller space.
As these racks are designed for easy assembly and disassembly, you can store it safely when not in use. You can also choose portable tyre racks with casters for easy movement across anywhere in the tire rack warehouse facility.
As they are manufactured from durable materials including stainless steel and steel, the tyre racks withstands the harshest conditions in the tire rack warehouse. They require minimal maintenance as well.
Tire racks are also the cost-effective solution to keep your tires organized in the best way for easy warehouse management and move out.
Don't worry if you couldn't find the right tyre racks to meet your purpose from the standard models available. There is always an option for customization. You can specify your requirements to the manufacturer and get a brand new customized rack that best suit your storage needs and your company's requirement to get the tire rack warehouse under control.
With these striking benefits of tire racks, why are you still depending on traditional ways of stacking solutions that consume lots of storage space and cause damage to the tires? Invest on the right racks that are sturdy and can easily handle the roughness of your forklift. You can choose to partner with SPS Ideal Solution, who is known to design customized tire racks to your requirements. With their vast industrial knowledge, they create storage racks that easily stackable and built to any size with no limitations.
Related Posts: