How to Select the Best Metal Pallet Racks for Your Facility
Pallet racks are crucial storage units in almost all industries, especially warehouses. They help organize the inventory in an orderly manner as well as track them easily. However, it is important to select the best pallets for your racks. One should smartly select racks considering factors such as the material used, load capacity, space available, and so on. They are made of metal, wood, plastic, and wood composites. Metal pallet racks have gained immense popularity in the recent years, owing to their ability to withstand heavy loads and extreme environments. Apart from load holding capacity, one should consider other factors while choosing metal pallets. Let's find out the factors in detailed as below -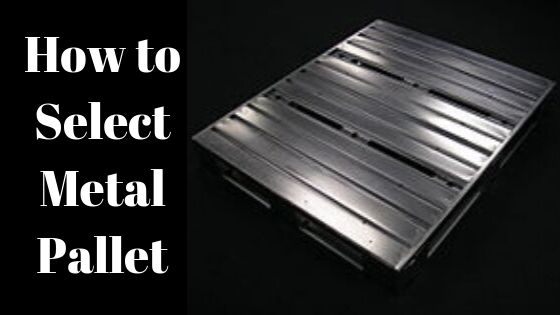 Factors to Consider When Selecting Metal Pallets
To prevent any kind of risk, maintenance issues and wastage, it is essential that you choose the right pallet based on your requirement. Here are a few factors you can consider when making a decision:
Find out if you need them for a short term or a long term. For instance, some warehouse storage is temporary, like when some materials are in transit. On the other hand, some materials may need to be stocked months ahead of dispatch.
Is there a certain order or sequence when taking the material off the shelves? Consider if you want to follow a FIFO or a LIFO pattern.
Consider the weight, size, and density of the materials you want to stock. Accordingly, if the materials are heavy, opt for a metal pallet.
Check the deflection or the load the pallet can bear once you keep the materials. If that deflection point is high, it is likely to be damaged. Replace it with a sturdier pallet.
Determine the usage of forklift to lift materials depending on their weight and size.
It is important that you train the concerned staff with regards to precaution and safety issues. Get a safety protocol in place and conduct periodic reviews.
There are some regulations and laws regarding warehousing and the storage facilities. Make sure you comply with them when buying pallets.
How big is the space of the warehouse and what is its area? Accordingly, you need to prioritize the storage of certain type of materials.
Are your pallet racks going to be exposed to high temperatures, chemicals, corrosion, or harsh environments? Based on these factors, you can decide the material of the pallet rack. There are pallet racks available with abrasion and chemical resistant materials which can withstand high temperatures as well.
Stainless steel is one of the important metals used for building metal pallet racks. Owing to the structural integrity, durability and flexibility of designing that stainless steel offers, these pallets can be availed in different designs. The post offers tips on how to select the metal pallet racks at your facility and also discusses the different types of metal pallets and racks in use today.
Types of Metal Pallet Racks
The steel metal pallet racks can be availed in different designs, some of the popular ones include the following: They are as follows –
Cradle Pallets: These actually resembles a cradle, and are ideal to store rolled and coiled products. They are made of steel and are handy and movable. The peculiar design enables the movement of the entire rack along with the coil, using a fork truck. There are different cradle designs suitable for various roll types and coiled materials. Some of these include rail cradle pallets and saddle cradle roll pallets.
Tab Stack Pallets: These are used to store rolled coils and their capacity is up to 15,000 pounds. These pallets have foam cushioning for extra protection. These are an ideal replacement for molded plastic pallets. They are made of welded steel and laser cut components. These are suitable for handling large-sized heavy coils which cannot be stacked one upon the other.
Flat Deck Pallets: These are extremely durable and long-lasting pallets made of industrial grade steel. These are ideal for cubed loads and can be specifically designed for indoor and outdoor use. They are moisture resistant and recyclable.
One may think that industrial shelves and pallet racks are the same, but they differ in terms of a warehouse. Shelves are pretty basic and used to store and pick up items. The pallet racks are used to store materials. On the other hand, pallet racks have specific designs and are handled or moved with forklifts. The following are a few popular types of metal pallet racks in use in industries:
Coil Racks
Cradle Roll Racks
Steel Modular Engine Racks
Roll Raptors
Suspended Steel Roll Racks
Industrial Shipping and Storage Racks
Open Frame Storage Racks
Folding Shipping Racks
Steel or metal pallet racks are used across industrial units; however, the requirement and budget of each unit varies. Selecting the right pallet and rack combination based on your requirement is a crucial decision. Getting them customized not only helps get a neat and organized look but also arrange and store specific items. Also, it is crucial that you get them from a recognized manufacturer who uses high-quality steel and other materials. SPS Ideal Solutions is one of the leading providers of shipping and material handling solutions.
Related Posts: