How to Solve Most Common Warehouse Management Challenges
A warehouse is not just a storage space where products and parts are stacked upon each other. It is a highly mobile area where things need to move in and out of containers for shipping and vice versa. There could be constant loading and unloading of required items. Also, if a particular product is in demand, it needs to stocked in enough numbers in the inventory. So, warehouse management is a big deal and needs to done skillfully and with utmost planning. This post focuses on some of the common storage warehouse challenges in warehouse management and the solutions to overcome them.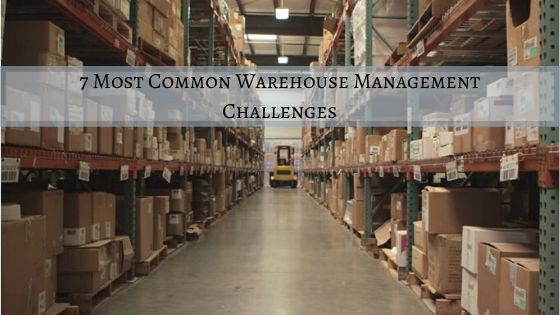 If you are facing structural issues with your warehouse or falling short of space, the issue can be solved through skillful redesigning of the space. Aside from this, here are some common warehouse challenges and solutions that may be useful for everyone working there:
Understaffed warehouse: Less staff in any organization can cause stress due to excess workload and having to look after multiple functions. In a warehouse, one needs to be careful and hasty movements across may result in injuries and accidents. So, it is essential to recruit the required number of people to avoid excess running around.
Delays in shipments due to improper loading & unloading of products out of the warehouse: At times, loading and unloading cargo may take time. But, if this becomes a regular issue, it could negatively affect the business. Make sure the accessories you use for specific types of products and the type of storage units are appropriate. This especially applies if the products or parts are either bulky or delicate. In this case, prior planning in terms of packaging material is also essential.
Issues in planning and supply chain management: Planning and perfect coordination are key to the successful completion of any activity or project. The same applies to the coordination between the warehouse members and the supply chain staff.
Proper use of accessories such as forklifts: If you have a compact space with narrow aisles, accessories such as forklifts are extremely helpful. In case of vertical stacking, which is highly elevated, personnel lifts can be used. Robots or rollers can be used to carry items from one location to another.
Rusted or broken storage units: Get rid of such units as soon as possible as they pose harm to your workers, as well as inventory. There are players who can make collapsible shipping containers and flexible storage racks and pallets for your warehouse. Make sure you use sturdy metals, which are made corrosion and chemical resistant through coatings or other solutions.
Proper planning when adjusting goods in compact spaces: You can opt for corrosion-resistant and robust storage units, which can fit into compact spaces. Also, arrange the inventory such that the goods that need to go out often are stored in the front and are easily accessible.
Upgraded computer systems and live tracking of shipments and arrivals: Nowadays, you can ease your warehouse challenges by using ERPs or similar integrated software to integrate your warehouse and supply chain segments. You can implement robots to do certain jobs especially, in places where it is hard for humans to reach. This will facilitate live tracking of shipments and boost business growth.
If you are a warehouse industry player and have faced such issues, you can approach an expert for a solution. Also, if you are looking for a warehouse upgrade at your facility, there are many known players, such as SPS Ideal Solutions, which can help you with excellent metal pallets and metal storage units that suit your application requirements. Without comprising on the standard safety levels, they can design efficiently so that your material fits into even the most compact spaces. SPS Ideal Solutions is one of the leading providers of shipping and material handling solutions.

Related Posts: