Best Techniques to Wrap Pallet to Minimize Shipping Damage
Pallets are designed for supporting finished and unfinished goods. Over the years, pallet shipping has emerged as a choice for pallet manufacturers as well as companies serving globally. There are many freight pallet shipping companies contributing to good transportation via pallet shipping. To ensure the safety of material insight the pallet, it is very important that the pallet is well wrapped. Generally, for box shipping or lightweight shipping, techniques like shrink packaging and stretch packaging are used. However, for heavy-duty shipping, metal pallets are used. Especially, when it comes to metal pallet wrapping techniques, the packaging has to be rigid. This post focusses on how to wrap a pallet effectively and some proven metal pallet wrapping techniques.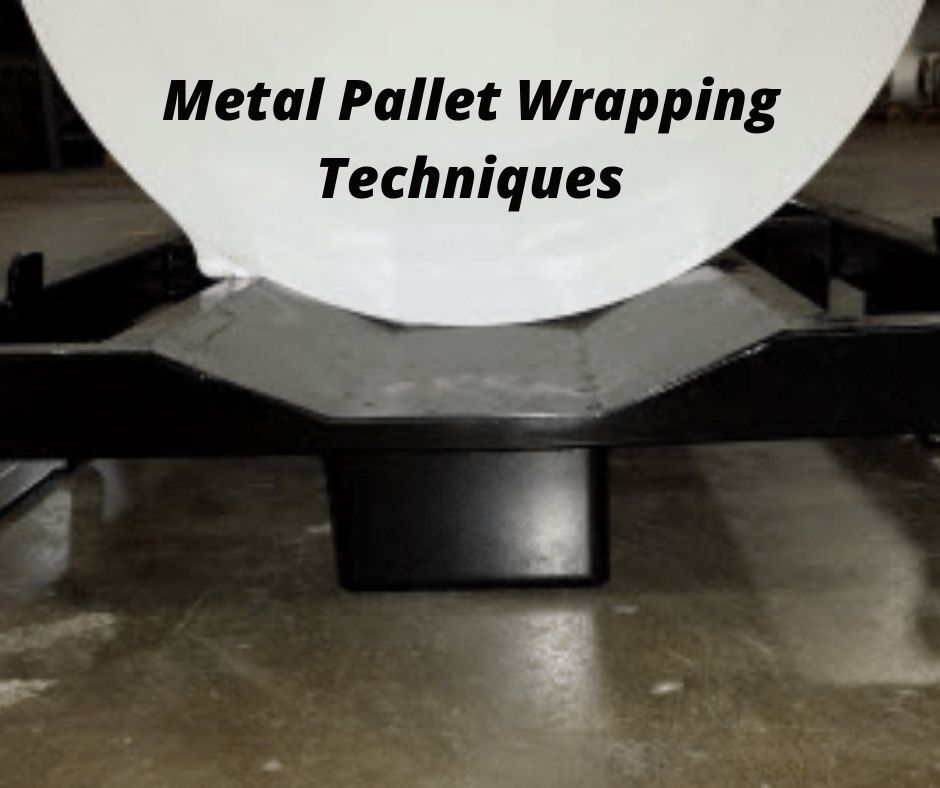 A Few Effective Ways to Wrap Metal Pallets
Metal pallets are often used for heavy-duty material shipping. Therefore, it is important to have sustainable packaging on metal pallets. The following are some proven effective metal pallet wrapping techniques.
Selection of the Pallet: The first factor for effective metal pallet wrapping is to select a correct pallet. The metal pallets house heavy material that can be loose parts, raw materials, mechanical equipment, etc. Therefore, a metal pallet must be selected which is just enough for storing the materials comfortably. The quality of a metal pallet also must be checked during the selection. The metal pallets with faulty welding or rusted metal must be avoided.
Appropriate Material Packing: No matters if the goods to be transported are raw material strips or a whole assembled equipment, it must be set well in the pallet. If there is some gap left between components and the pallet walls, then it must be filled with foam paper, foam sheets, etc. Loose parts may collapse against each other if not tightly packed inside a pallet. This causes damage, thus to reduce transportation damage, the material must be packed properly.
Stacking Up: The pallets must be stacked up strategically if it's bulk shipping. Comparatively heavy pallets should be placed at the bottom and the lighter ones must be placed on the top. This helps manage the load on them effectively. Also, the pallets must be stacked up on a flat panel and overhanging must be avoided. Evenly stacked pallets are easy to wrap and it also becomes sustainable.
Shrink/Stretch/Nylon-Wrapping: The filled pallet weight must be sustained by the wrapping material. Shrink or stretch wrapping is used to wrap metal pallets, under regular shipping conditions. However, for rough shipping, plastic stretching tape may not suffice. In such conditions, nylon wrap is a more rigid and sustainable option.
The pallet metal pallet wrapping process must be done by following some precautions. The precautions are detailed as follows:
While wrapping the metal pallet, there should not be a loose wrap. Loose wraps may trap air which can cause oxidization of metal pallets and components.
The wrapping must be multi-layered to ensure the durability of the packaging.
If any sensitive equipment or material is being transported then the packaging must be shock and vibration resistive. Foam sheets between each layer of wrap, dock absorbing material sheets, etc must be inserted in the wrapping layers.
If the wrapping is done manually, then the wrap must be twisted timely for enhancing strength and durability.
However, there are advanced metal pallet wrapping techniques available that are proven time and effort-efficient.
Advanced Metal Pallet Wrapping Techniques
Following are the advanced metal pallet wrapping techniques used in industries:
VCI Packaging: Metal pallets are often susceptible to corrosion since they are made of steel, brass, copper, etc. The corrosion can be inhibited using Volatile Corrosion Inhibitor (VCI). In this technique, the pallet surface is specifically covered by a very thin layer of VCI material. A very small dose of inhibitor is consistently released to the pallet material from the VCI coating. This type of packaging is an advanced metal pallet wrapping technique that secures metal pallets from corrosion. It also resists metal aging by offering UV protection, resistance to surface damage, chemical resistance, etc. Therefore, this technique is used for industrial metal pallet wrapping.
Automated Metal Pallet Wrapping: Automated metal pallet wrapping is a mechanized wrapping technique. It features a 360-degree metal pallet wrapping machine that offers quick and full coverage wrapping. This wrapping equipment overcomes metal pallet weight restriction and the conveyor system offers appropriate placement of the packed pallet. This machine is suitable for any type of wrapping material and shrink or stretch or nylon wrapping can be performed by this machine. It saves human efforts and increases process efficiency.
As mentioned earlier, for effective metal pallet wrapping, the selection of quality pallet and wrapping material is as important as the technique. You must source the metal pallets and wrapping essentials from trusted suppliers. SPS Ideal Solutions designs and manufactures innovative and performance-driven stainless pallets and other durable storage solutions, as well as metal pallet wrapping services. They have been offering customized storage and packaging services to a large range of clientele. They offer advanced pallet wrapping services like VCI packaging and automated metal pallet wrapping.

Related Posts: