Storage Racks or Storage Containers - How to be Sure of the Right Choice?
An effective storage in a warehouse is every industry's need, and probably one of the major priorities. Storing products effectively goes a long way in determining the shelf life of the product stored. This is the reason why most manufacturing industries focus on making their warehouse well-equipped with proper storage solutions. Now, the storage can be done in two ways - storage racks, and storage containers. Each type of storage equipment has its own set of pros, cons, properties, features, and capabilities. Which one to choose? Is this the question bothering you? This confusion will be cleared after reading this post, as the answer to selecting between storage racks and containers lies in here. Read on to know more.
How to Choose Between Storage Racks and Storage Containers?
There are certain factors that you should be considering to reduce the confusion, make the right choice of the storage solution that is suitable for your warehouse or storage area. These factors are as follows:
Layout of Your Warehouse:

Understanding the layout of your warehouse is the most important factors that goes a long way in deciding your storage solution. Knowing the most used areas and available space in a warehouse gives you a clear picture of whether to go with storage racks or storage containers. If you go with the containers to store products in bulk, then it would help you organize the production line efficiently. On the other hand, if you go with the storage racks, they will allow you to stack them one above the other, and thus save a considerable amount of warehouse space.

Products to be Stored:

The second most important things to take into consideration is the type of product that you are planning to store. In addition to this, it is also important to know the size, shape, and material of the product being stored. This is because small racks or containers won't be suitable for storing large products. Along with understanding the product, it is also essential to know the load-bearing capacity of the storage racks or containers. So, in case of heavy-duty parts, you would be requiring large storage containers, whereas, storage racks are a more suitable storage option for products with a high turnover rate.

Your Budget:

Finally, everything comes down to the budget. Storage solutions of any industry are always considered to be a good investment. Why? It's because if you go with cheaper or lower cost options for storage solutions, then there are maximum chances of a requirement to replace them with the new one more frequently. Sometimes you might find the storage rack, or container that you might be considering is expensive and above your budget. However, quality products that are highly recommended for the warehouse storage need often come at prices higher than the low-quality products. Thus, it is not a good idea to save money in such cases.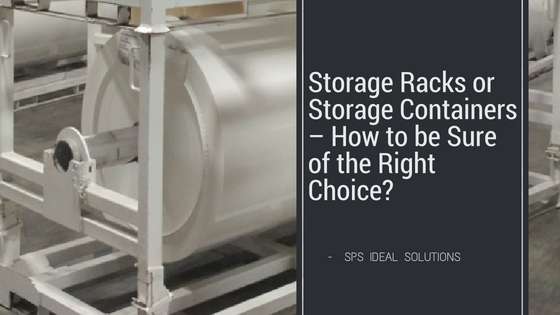 Some More Options
When you decide to go with storage racks, there are several options for you depending on your storage requirements. These are:
Suspended Steel Roll Racks
Movable Storage Racks
Folding Shipping Racks, and more.
Likewise, if you select storage container as your storage option, then too, you have got following types of containers:
Portable Steel Containers
Collapsible Steel Containers
Taking into account the aforementioned factors will help you make the right choice of storage solution for your warehouse. Still, if you are confused, or have any doubts, you can always reach out to the experts in providing storage solutions, who can guide you in making the right choice depending on your storage requirement. One such expert is SPS Ideal Solutions.