Essential Material Storage Products you Needed at your Warehouse
Warehouses are that place wherein a wide range of finished/semi-finished goods are stored temporarily before they are being shipped to the customer or for further processing. So, it is a place that requires several kinds of material storage products to streamline the activities. The use of the right kind of material storage products not only aids in the movement, protection, and control of products, but also maximize storage, enhance the workers' productivity and minimize unique work place hazards. So, what kinds of material storage warehouse products you need the most? The post lists several must-have items that support the inventory management flow and process management at warehouses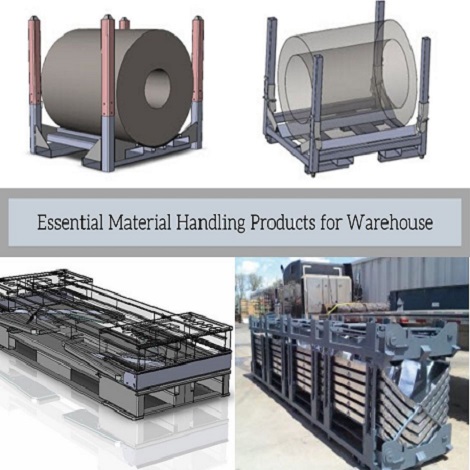 Know the Types of Warehouse Products Available
Choosing the right kind of material storage product is essential for optimum productivity. The following list introduces you to different types of warehouse products available for your consideration.
Racks: Optimize the density of your storage space by installing the right type of racks. They are the most decisive and flexible warehouse storage solution maximizes the warehouse space. The following are a few popular racking systems used across the world.
Metal Coil Storage Racks: Guaranteeing easy stacking, these material handling racks are best suitable to store and transport metal coils of varying specifications from small, medium to extra-large sizes.
Movable Storage Racks: These must-have warehouse products enhance the storage capacity of your warehouse multifold. Movable storage racks are often designed as high-density solutions that answer storage space constraints in warehouses.
Folding Shipping Racks: Ideal for manufacturing, pulp and paper, plastics, automotive, military industries, these material handling units are designed to fold when not in use. Also, these racks are perfect for storing items during long distance transit.
Roll Raptor: Readily available in standard as well as customized designs, these racks allow for easy loading, positioning and securing of paper, plastic or metal coils.
Pallets: A pallet, which is a flat transport structure, supports products optimally when they are moved across warehouses or outside for shipping. Widely known for their robust construction and longer service life, they augment material storage efficiency. Following are the types offered under this category:

Metal Pallets: Manufactured using different types of metals such as steel and aluminum, these pallets can easily withstand sagging and collapse under heavy loads. The metal pallets are more durable, safe and efficient compared to their wooden and plastic counterparts.
Cradle Pallets: These material handling units are specially designed to store/transport rolls and coiled materials. Cradle pallets are used in industries such as printing, pharmaceutical, machine tools, packaging, food, and chemical to store film, paper, metal or any type of material in a cylindrical shape

Tab Stack Pallets: These are Metal pallets specifically designed to accommodate various coil materials and roll types. Offering the advantage of light weight, corrosion resistance, and fire resistance, these material handling systems are robust enough to handle weights up to 15,000 lbs
Portable Containers: When your requirements call for a temporary storage solution, then portable containers are the best available solution. Ideal for a short term or along term storage purposes, they can accommodate varying types of products up to 3000 lbs. of weight. As portable containers are constructed with durable materials, they will withstand impact and other unfavorable conditions during transit.
Collapsible Steel Containers: The advantage of these warehouse products is that they can be folded and safely kept for later use when not in use. These types of material handling units are extremely beneficial for those warehouses that open only during particular season of a year.
Factors to Consider When Choosing Warehouse Storage Equipment
Now that we have listed several types of warehouse products and there are lots more to be added to the list. So amongst the several models to choose from, which one is the best for your facility? Blindly making a section would not give you expected results. Hence, it is important to consider the below listed points before making a selection.
Type of goods to be stored and handled
Floor area layout in the warehouse
Weight of the item to be stored
Resistance to the conditions exist in the application areas
Materials of construction
Reusability and sustainability
Impact resistance
Forklift accessibility
Available height and floor space
Durability and modularity
Selecting the right material storage units brings several benefits by maximizing your space in the most efficient way possible. You can opt a manufacturer like SPS Ideal Solutions to get these items in a wide range of specifications. Selecting the warehouse products from prominent providers not only brings you with the finest quality products but also provide you with the required technical guidance. Being in the industry for the last 30 years, SPS ideal Solutions has the expertise to provide effective designs and solutions when it comes to racks, pallets, and storage containers.