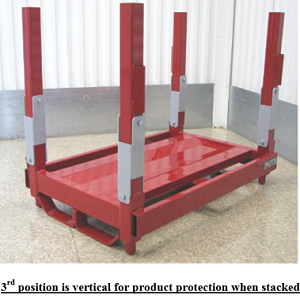 Tringe Corners
Versatile Feature for All Racking Systems. A Multi-Functional Feature that Reduces Human Effort and Cost in More Than Four Processes.
In any business, transportation and storage are two main supply chain processes that make or break your balance sheet. Maximum product damage could also occur in these two stages. Hence, the racking solution used during both the stages should be chosen or designed with care.
Understanding the need of the day, SPS Ideal Solutions has developed a unique feature for racks that allows products to be loaded, unloaded, transported, and stored with ease. Most important of all, this feature allows empty racks to be stacked on top of one another. This brilliant feature reduces space utilized during transportation. This helps in reducing cost.

Working of the Tringe Corner – Tringes in Action
Watch the Tringe Corner in action via this interactive video
The 3 Positions of the Tringe
The tringe corner offers several benefits. The three planes travelled by the tringe can be viewed below. This should also help you get an understanding of the capabilities of this product.
Understanding the use of the three different positions of the tringe:
| | | | |
| --- | --- | --- | --- |
| | POSITION 1 | POSITION 2 | POSITION 3 |
| POSITION | 1st position is with the corner post folded onto the deck surface. | 2nd position is to be able to fold the corner outward from the deck, parallel to the deck length | 3rd position is to be able to place the corner in a vertical position. |
| USE | This position allows the racks to be folded and stacked on top of one another. As a result, they occupy lesser space. | This provides ease of entry for the product being loaded onto the rack. | This is the normal position of all racks. It protects the product when stacked. |
Benefits of Tringe Corners
Your racking system can benefit from tringe corners in the following ways:
Tringe corners can be integrated with almost any type of rack.
Racks with tringe corners are easy to operate. In-depth training is not required to operate them.
The corners are always attached to the rack (non-removable). Hence, there is no chance of losing them.
The tringe system allows ease of loading and unloading. This reduces human effort.
In the vertical position, the tringe allows the collapsible vertical bars to keep the product from being damaged.
In the final position, the tringe folds inwards. This allows the entire rack to be folded in a horizontal manner. In this position, many racks can be stacked on top of one another. This reduces cost of shipping.
This feature can be incorporated in racks used specifically for shipping or storage.
Applications of Tringe Corner Racks
The tringe corners when integrated with racks allow for multiple functionalities. These racks can be used for the following products:
Boxes and cartons
Flat material like heaps of paper, cloth, etc.
Other pallets or racks
The racks can be integrated with cradle style holders to transport rolls. These rolls can include paper, cloth, wire, etc.
Racks with end boards used to suspend rolls can be integrated with tringe corners.
Other kinds of materials in varying shapes and sizes can be accommodated in racks with tringe corners.
Tringe corner racks can be used in several industries. These products can be customized according to your particular application. Barcode tracking systems can be integrated in all racks for smooth flow of operational and logistical processes.
Tringe corners are used in your racking system to reduce space, effort, and cost.
Downloadable:-