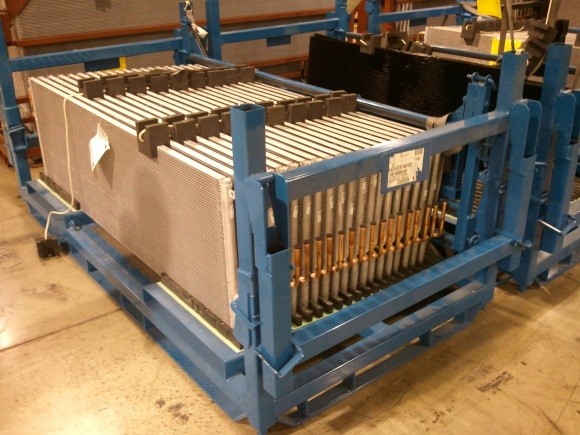 Improved Space Usage For Trailer Loading
Readily Visable With Solid Works Cad And Creativity
Totally self-contained adjustable height steel shipping rack designed to accommodate different products heights but with same lengths. Does your company make products that are similar in size that would fit on the same foot print, but the heights have caused you to buy 2 different heights of racks? Our steel shipping racks are perfect for every application.
Our Locking Collar Hinge has once again come to the rescue of a Fortune 500 client in the heating and air conditioning OEM industry. With manufacturing in several countries our client was faced with transporting their cooling panels to another plant for assembly with other components. Your company may have this same problem.
The design needed to be collapsible. The compact design of our Locking Collar Hinge allows the collapsed steel rack to stack flatter. The flatter the rack the more we can stack for return when empty. Utilization of trailer space is Critical to proper cost efficiency in closed loop manufacturing processes that wisely use Sustainable steel racks from SPS Ideal Solutions. Our SOLID WORKS CAD program had already shown us the comparative overlay image of the shorter sizes of the panels. We mounted a second set of Locking Collar Hinge at the appropriate height; SOLID WORKS readily validated the height. Now the ends of the steel rack could be reverse folded to shorten the rack height. One Rack with adjustment for load heights!
We gained a huge benefit for our client by being able to load the taller racks in the trailer and then stack the shorter height panels with the steel racks ends folded down on top of the first. No Dead Space every useable inch of height is used. Improving the load efficiency of transporting panels between the plants allowed the client to meet their cost goal but also the manufacturing rates for final assembly were attained as well.
Does your company ship products with this height configuration dilemma that causes you to have "DEAD AIR"