Metal pallets are part of any distribution center and a warehouse. Designed as flat structures, the pallets help stack materials, goods, and equipment. These integral material handling systems ensure efficient storing/shipping of products with minimal damage. The pallets are engineered to ensure the safety of people handling them. Equipped with a flat support structure, these pallets won't collapse or roll while being lifted by a forklift, pallet jack, or other jacking devices.
Several industries use or manufacture rolled and coiled products. This requires them to use specialized racking and shelving systems that support the weight, dimensions, and designs of such products.
Rotational plastic pallets are a well-known option for the transport and storage of different types of rolls and coil materials. They are considered to be a better alternative than wood pallets.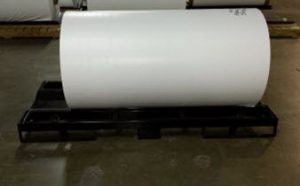 Flat pallets are always a requirement in warehouses and storage facilities. However, many pallets made from the material like wood or polymer cannot endure the rigors of daily activities. SPS provides the solution with flat deck steel pallets. These products are designed to be versatile in terms of performance, and durable in terms of service.