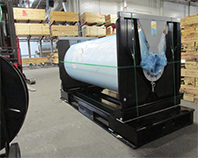 Design & Supply Fabricated Steel Roll Shipper Systems
Converter rolls to mill rolls, paper, film, laminates any roll that requires safe movement and storage. Our systems allow for safe, easy loading and unloading. Every unit stacks empty or loaded. Every design prevents roll damage, all stacking is on our steel structure.
Roll Raptor replaces plastic, wood or MDF roll end boards and the wood pallet. Hinged end boards have auto lock, anti-tip during loading. Roll Raptor adjusts 20" for changes in roll widths. Can handle 2 different core sizes. 4 poly straps hold the roll tight, all of the straps are above the deck.
Tringe Slide Deck offers independent steel end boards, with strap guides. The Slide Deck risers adjust 20″ for changes in roll widths. The risers lift and lock in .375″ increments. Tringe corners fold out and along the deck length for unobstructed loading. Steel end boards store flat on deck, Tringe corners fold