Folding Shipping Racks
Folding Shipping Racks - Minimizing Space and Maximizing Productivity
SPS Ideal Solutions has been a forerunner to change. Our folding shipping racks are no different.
Witnessing the exorbitant costs imposed on businesspersons transporting empty racks, SPS developed a solution to minimize this cost.
Our engineers and designers have provided unique solutions to maximize utilization of space and minimize costs.
Folding shipping racks are designed to hold material during shipping, and as the name suggests, folds to a much smaller height for increased stacking density on return.
These racks can then be stacked on top of each other. This helps streamline the transportation process and reduces workflow problems.
We provide easily folding shipping racks for clients from manufacturing, pulp and paper, plastics, automotive, military, and several other industries. Rack designs can be modified and tailor made to suit the requirements of clients and their applications.
Features & Benefits of Folding Shipping Racks
SPS Ideal Solutions provides user-friendly folding shipping racks that feature:
Unique design that allows empty racks to be stacked on top of each other
Integrated locking feature to secure products within the racks
Racks are compatible with 4-way fork trucks and pallet jacks to allow effortless loading and unloading
Long lasting material and design
Standard and customizable sizes available
Racks can be color coded according to preference
Racks can be cleaned with ease. They also allow daily rigorous cleaning
Can be used across several industries
Can be used for storage or material handling purposes
Material & Finish Options of Folding Shipping Racks
Our foldable shipping racks can be manufactured using the following materials and finishes::
Stainless Steel
Aluminum
Powder Coating
Scope of Customizability with SPS Ideal Solutions
SPS Ideal Solutions provides clients with practical solutions for their storage and material handling needs. We are extremely flexible in terms of designs, materials, and timelines. Providing solutions within a client's budget is our forte. Visit more information about our customized process.
Collaborating with Us
The duty of addressing a client's problems in terms of product specifications and features lies with the manufacturer. At SPS Ideal Solutions, the teams work as extensions of one another to seamlessly provide the best possible, the ideal solution for an application problem. The safety of the product within the rack is of the utmost importance to the design process. We ensure that the product maintains its structural integrity in transit. We use a practical approach for our folding shipping racks, as well as other product solutions like coil racks that helps minimize a user's effort and increases productivity.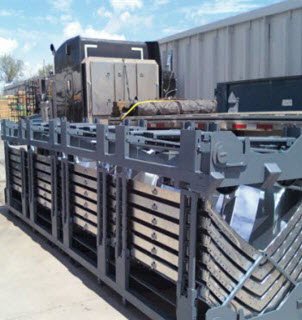 Collaborating for Mutual Growth
 Constructed using high quality steel and aluminum sourced from USA.
 Can be used to ship a wide range of products in varied industries.
 Integrated locking feature secures products with ease.
 More sturdy and cost-effective than wooden racks.
 Lightweight design with heavy duty features.
 Compatible with 4-way fork trucks and pallet jacks.
 Can be customized according to different industries, equipment, or processes.