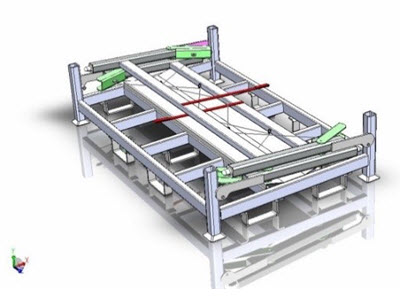 Film Roll Storage Folding Rack
We designed a film roll storage folding rack to replace a rigid floor mounted rack system at a major extrusion plant in the mid-west state of Indiana. The challenges and solutions are detailed in the below section.
Challenge
Our client was using a fixed rigid rack system for storing rolls of film. The following problems were identified:
The rigid racking was creating a major bottleneck for the fork truck traffic
The racks did not have adequate space to hold the production flow coming into storage
If additional fixed rigid racking was installed, it would further complicate the fork truck traffic into the storage area
Solution
Our solution was to create a racking system that was dynamic in terms of storage volume. Additionally, the racks needed to ensure ease of fork truck entry. A folding rack that would allow for transfer of the rolls of bundling film onto a roll transport/storage roll rack was used. Once the roll was on the movable rack it could be fork trucked into the storage area.
A folding design would provide space savings to accommodate the flexibility of production volumes adjusted to meet changes in end user demand
The roll rack had to be easy to operate for the film extruder operators
Safety was very top of the list - the client has had 4 years with no injuries
The roll rack would be the first transportable steel roll rack at this plant.
The roll racks would be stacked 3 high, although they can be safely stacked 4 high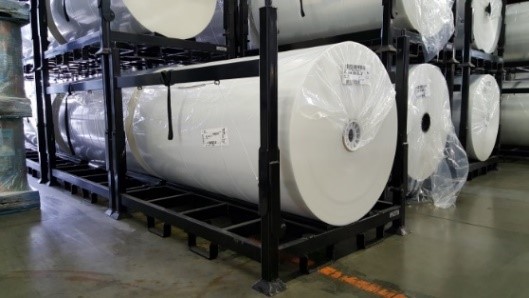 Rack Design Features
The custom designed rack featured:
Single cable release
Each corner is vertically secure by a channel section that completely captures the open pivot of the hinged leg
Hand strap assists in easy lowering of the side section onto the roll rack deck
Cradle deck protects the film from becoming "blocked" in storage
Funnel feet provide easy alignment for stacking
Collaborating with SPS Ideal Solutions has allowed our client to make use of cutting-edge technology for development of a product that is dynamic in nature. It offers immense benefits when in use, and can be stored without occupying much space when not in use. With development of a versatile rack, the client was able to solve all the problems they were facing when using traditional tacking systems.